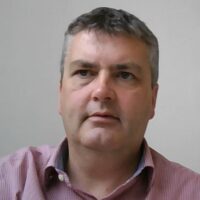 John is a founding partner with H2 Learning since 2002. John has overall responsibility for developing the business and the day to day running of H2, while playing a central hands-on role in managing a number of large-scale education projects at national and European level. John leads our work with Science Foundation Ireland and provides on-going education and management support for the Discover Primary Science and Maths and SFI Science and Maths Awards for schools. John works with the Department of Education on a number of digital learning and STEM Education strategic projects. John is currently project manager of ATS STEM, an EU funded project investigating teaching, learning and assessment of STEM skills, working in partnership with Dublin City University.
Prior to establishing H2, John spent four years as National Co-ordinator for ScoilNet with the National Centre for Technology in Education (NCTE). In this position, he pioneered the provision of Internet for Irish schools and the development of ScoilNet as the official portal for Irish education in partnership with Intel Ireland. John has considerable teacher professional development experience and is a member of the TeachNet Ireland management team designing and delivering cutting edge training for practising teachers on the use of ICT in Irish schools. John has worked on post-graduate course design for Trinity College, University of Limerick, Irish Times Training and Hibernia College.
John has served on a number of school boards of management at primary and post primary levels. He was on the board of Kildare Wicklow ETB for a number of years and is currently the Chairperson of Maynooth Community College. John is a qualified primary teacher and holds a B.Ed. Degree from Trinity College and an MBA from Dublin Business School.
Linkedin: https://www.linkedin.com/in/johnhurleyh2/
Email: jhurley@h2.ie