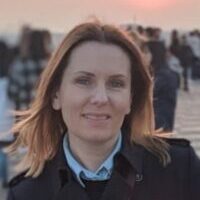 Karolina is a senior project manager with over 12 years of experience in managing EU Programmes in the field of digital education. New technologies and the way they change education have always been an area of her interest. In her master's thesis she investigated the role of knowledge and influence it has on modern society in Europe. It has defined Karolina's interests and her work career and in 2008 she started working with European funded programmes with the main objective to support new technologies adoption in schools. Her first project application was awarded an EU grant which resulted in implementing an innovative learning management system to vocational schools in Ireland.
In 2013 Karolina joined H2 Learning as an EU Project Manager. In this role she manages a full cycle of EU funded projects, from the research and writing application phase to successful evaluation. Over the years, Karolina's experience and skills have grown and developed to encompass all fields of the EU programmes development and management. She acted as a project manager to international programme teams, coordinating project proposals development, carrying out educational research as well as overseeing the lifecycle of dozens of EU projects including product development, pilot testing and mainstreaming. She has also successfully partnered with public European organisations, universities as well as commercial companies (Microsoft, HP) to support their education objectives.
In the 2019 project that she co-authored and coordinated was awarded a VET Excellence Award by the Erasmus + Programme.
Karolina holds an MA in Political Science from the University of Wroclaw, Poland