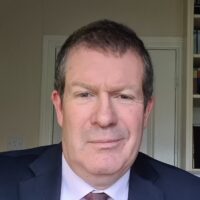 Michael is a former primary school teacher who has over 25 years' experience working in the field of digital education. He developed his interest in digital education in the early 1980s as an undergraduate student teacher in Coláiste Mhuire, Marino by playing with the college's newly acquired Apple Macintosh computer. His first research project focused on the use of a BBC Micro in Irish primary schools in the mid-1980s. He later pursued a Masters in Education Technology in Boston College, where he also focused on the area of digital assessment. During his time in Boston he also worked in the Newton Public School System, one of the most progressive education systems in the US and he had the privilege of working on numerous innovative digital education projects.
On returning to Ireland in 1994, after 5 years in Boston, he returned to classroom teaching and was instrumental in introducing Apple Macintosh computers into the school and in partnership with his business partner, John Hurley, created the first school website in Ireland.
Working closely with Ireland On-line, the largest internet service provider in Ireland at the time, he and John created a school's portal for Irish schools, a booklet on using the Web in Irish schools and the first course for teachers on using the Web. John and Michael created a company, EdNet, to spearhead this work and eventually their work was recognised by the European Commission and the Irish Department of Education. This busy period between 1995 and 1996 eventually led to Michael being seconded into the Department of Education to work with staff to develop Ireland's first digital strategy, IT2000.
Over the years he has contributed actively to the development of three digital education policies for the Department. In 1998 he joined the newly formed National Centre for Technology in Education where he worked as a National Co-ordinator for Interactive Software in the Curriculum till 2002. He also had responsibility for digital education research activities at this time and worked with colleagues on a number of innovative research projects.
Michael and John founded H2 Learning in 2002 and have built up a vibrant consulting, project management and professional learning company over the intervening 18 years. Most recently he and his colleagues in H2 Learning have been working with schools and further education organisations to design and implement pedagogically sound online and blended learning events. He is also currently working with the European Commission's DG Education and Culture in two roles: one with their Digital Education Learning Teaching and Assessment Working Group and most recently with their Schools WG on Blended Learning. He has extensive experience of working with ministry of education officials across Europe and H2 Learning is a recognised leader in European Commission Erasmus+ projects where we work with ministries of education, the higher and vocational education sector and schools on the implementation and evaluation of projects related to digital education. H2 Learning also have strong links to industry and are a Microsoft Education Partner.
Michael has a Bachelor's degree in Education from Trinity College Dublin, and a Masters in Education Technology from Boston College, and a EdD from the University of London in Online Teaching and Learning
Email: mhallissy@h2.ie